American Label Technologies, Inc. has been providing printing solutions since 2015. Our offset, flexo and digital printing capabilities allow us to provide a variety of quality products and services to a wide range of industries including food, beverage, apparel, automotive, corporate
marketing and more.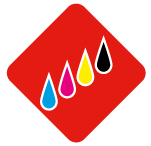 Offset printing is a printing process in which an inked image is transferred from a plate to a rubber blanket, and then to the material or paper. Offset printing is used when you need quality and high volume. From hangtags to brochures and posters, this product offering is key for growing your business.
Flexographic or "flexo" printing transfers ink onto the substrate using flexible printing plates mounted on fast rotating cylinders. A variety of products can be printed on flexo presses such as custom food labels, pressure-sensitive labels, price tickets and much more. Flexo printing allows us to print your images for fast production. Great when you need consistent quality from one job run to the next. Our 5 and 6 color presses print vibrant labels that really make an impact!
Digital printing allows us to get your labels done fast without the need of plates. Great for short runs with fast turnaround times. In-house digital print capabilities allow us to create high quality printed pieces and gives us the ability to handle custom variable data for small quantities and to be a total solutions provider.
​
THERMAL PRINTERS AND SUPPLIES