RFID or Radio Frequency Identification has a variety of applications and uses whether it be improving logistics and distribution or inventory or point of sale control, American Label Technologies, Inc. will help provide you with item level RFID that is right for your business needs.
We specialize in UHF and HF RFID labels and tags but our relationships in the industry allow us to produce other products such as Near Field RFID as well. We stock a variety of Tags and Labels for Retail compliance applications but we can make to order products with custom printing, sizes and inlays.
​
Read below to learn more
RFID inlays are made up of an antenna and a microchip, also known as an integrated circuit (IC). Digital data is stored in the IC and is transferred from the antenna to an RFID reader. ALT supplies inlays of various type, size and shape and can assist in suggesting and offering inlays that are best suited for your smart label needs and applications.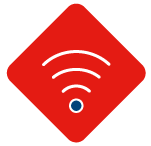 RFID converting is the process of integrating an RFID inlay into a label, sticker or tag. We are experts in RFID converting and can guide you through the process to find the right solution to meet the needs of your business. ALTemploys the latest state of the art conversion equipment, such as the Tamarack RFID, and has the capability to convert two lanes at once, doubling production speed, saving costs and helping you meet your deadlines.
​
RFID converted tags or labels must have unique identifiers and product codes written into the inlay IC in order for the data to be transmitted. This process is referred to as encoding. ALT not only encodes your RFID tags and labels, but we also custom print your variable data, supplying you with a completely finished and ready to use RFID smart label solution.
American Label Technologies, Inc. has industry partners that will help you integrate RFID technology into your business. If you are looking to improve inventory, warehousing , distribution, reduce shrinkage , even point-of-sale, RFID can help improve these processes so you run a more efficient business.
​
Looking for equipment? We can provide you with RFID enabled printers, fixed antennas, handheld readers, mobile readers, computers and more. If you are unsure of what is needed, we have integration specialists that can help find the right solution for you.
Contact ALT today to learn more about RFID solutions