We specialize in UHF and HF RFID Labels and Tags but our relationships in the industry allow us to produce other products such as Near Field RFID as well. We stock a variety of Tags and Labels for Retail compliance applications but we can make to order products with custom printing, sizes and inlays.
Our Flexographic presses allow us to print your images for fast production. Great when you need consistent quality from one job run to the next.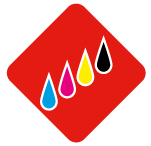 Digital printing allows us to get your labels done fast without the need of plates. Great for short runs with fast turnaround times.
Offset printing is used when you need quality and high volume. From hang tags to posters this product offering is key for growing your business.
Thermal Printers are a great way to print quick variable information on a label. Let us know if you need printers, software or supplies.
Please reload